There are a lot of poorly aligned textures in MSC, some of which have bothered me so much that I've gone and fixed them myself. I will post pictures here along with downloads so that you can have them for yourself.
Affliction Lance.
This is the first thing I ever fixed, the affliction lances texture looked like it was lazily slapped over the holy lance and it still had a sliver of it showing like disgusting plumber crack. I also made the head of the spear look a lot more proper.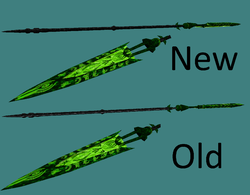 https://www.dropbox.com/s/ak5vzekmddfet23/afflancefix.zip?dl=0
(This fixes both third and first person.)
Bear claws.
Before:
After:
https://www.dropbox.com/s/9zz6y65b59d2dry/bearclawsfix.zip?dl=0
Armor.
So this fix is most noticable in a few key spots, the hands and the Pheonix armor. With the original model, the skin tone of your characters hands change depending on which suit of armor you're wearing and as for the Pheonix armor... Well, just look at it. (New is on the left and old is on the right.)
https://www.dropbox.com/s/ta92gdozij8v3vc/armorfixerino.zip?dl=0