Anybody else getting results from this tool? It took me probably 2 nights to work out how to start feeling like I'm mapping and not just stumbling around.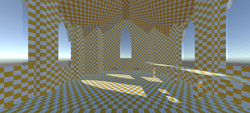 -I did notice that light seems to leak through corners which are 'pixel touching' overlapping my corners seemed to fix it.
-Windows are sort of janky, seems like you should really keep things simple.
-Is anyone getting the 'subtract' mode to work? I can't seem to use it correctly
-The tool deletes faces that it thinks the player would never see. Ex. Two copies of a square are touching, the tool deletes the shared face where the squares touch. Sometimes this is inconvenient for me, I can't figure out how to get certain faces back! And they are not just excluded, I can't even select them.
-Does anybody edit in a 2D view? I've been using 3D perspective and I'm feeling like it limits me.
Share some tips if you have them! While you're at it, share some stuff you have made too!
And don't be afraid to edit on the go or on your slow work laptop! I'm running basic unity and sabrecsg on laptop integrated graphics without any trouble.
Last edited: