Hey all,
I figured putting these in a appropriately named thread woud make sense. I'll try post WIP and final images, if it interests anyone. Critisim always welcome. Thanks!
WIP hammer, low level, worn farm tool:
Just to keep everything in one thread, here's the other finished weapon again, the worn dagger: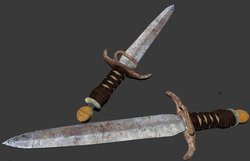 Thanks!
Pike